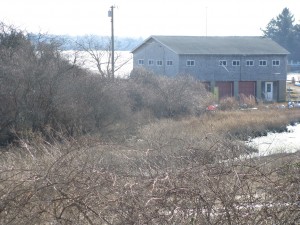 Camp Fuller – Selected as Vice Presidents Project for 2012 –Calling  all fellow employees, retirees, family and friends from Maine to West Virginia and beyond. This years Vice Presidents project will be at Camp Fuller, located in beautiful Wakefield, Rhode Island, May 18-20.
Pioneers will be painting fences and inside the camp cabins, scraping and painting the bottoms of the sail boats, building a stage area, replacing shingles on the roofs of camp cabins, brush clearing and planting flowers.
All meals will be provided by pioneer volunteers working in the kitchen.   We have a Saturday evening cookout planned with a fire ring and marshmallows.
Overnight accommodations for up to 115 volunteers are available in the camp cabins. Child care is "as needed" for 6-12 year olds. An indoor project making Hug A Bears and heart pillows will be available for those  that are unable to participate in the other projects.
Click here to view the project summary sheet and to register for the project.

The 2010 Group project was in the L H Kinnard Chapter area:
2010 Sports Jamboree
A special thanks goes out to our visiting Volunteers from Alexander Graham Bell, Empire, Old Dominion, Paumanok, Thomas Sherwin and West Virginia Chapters of the Telecom Pioneers for their time and support. Also we would like to thank Steve Kohn, VFFT Pioneers – Executive Director, for everything he contributed to the 2010 Sports Jamboree.