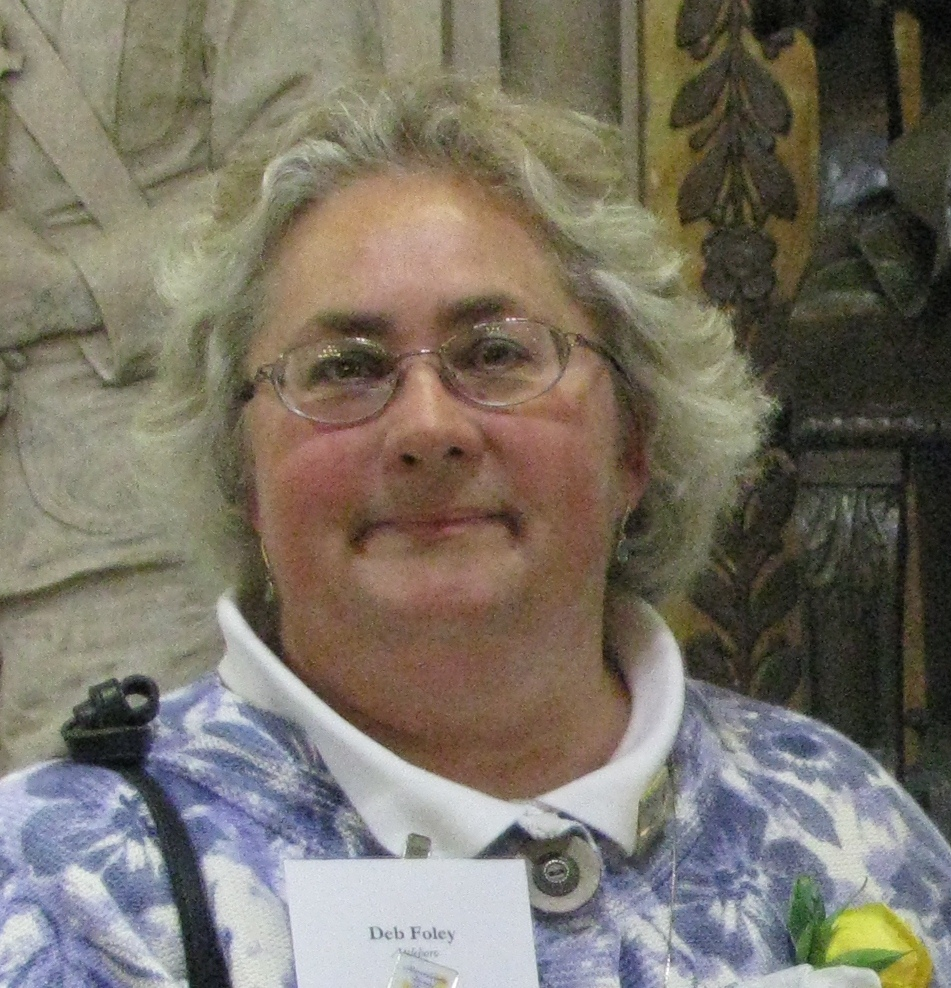 Deborah Foley
Director – New Vision Pioneers
Welcome to New Vision Pioneers.
We are a Volunteer Network and one of five Groups under the TelecomPioneers non-profit 501(c)(3) organization that has been in existence for 115 years!
Our New Vision Group is comprised of employee and retiree members from Verizon Communications, Frontier Communications, FairPoint Communications and the former Telcordia Technologies. We have eighteen chapters that cover fourteen states.
Verizon Chapters – 14
ALEXANDER GRAHAM BELL – D.C./ No. Virginia/ suburban MD
DENVER – Massachusetts, West & Central / Rhode Island
EXCELSIOR – New York – Upstate
FORT PITT – PA – Pittsburgh area
KINNARD – PA – Harrisburg, Lancaster
LIBERTY BELL – PA – Philadelphia / Delaware
MARYLAND – Maryland
MC CULLY DOWN – New Jersey – Downstate
MC CULLY UP – New Jersey-Upstate
NOVA – Manhattan & 5 Burroughs
OLD DOMINION – Virginia
PAUMANOK – New York –     Long Island
SHERWIN – Massachusetts – East
WEST VIRGINIA – West Virginia
Frontier Chapters – 2
GENESEE – Upstate NY/Rochester; Washington State; W. Virginia
MORRIS F. TYLER – Connecticut
FairPoint Chapter – 1
KELLER – Maine, New Hampshire, Vermont
Former Telcordia – 1
Our motto is "Answering The Call Of Those In Need". Our volunteer efforts cover a wide range of community needs including Education, Health & Human Services, Life Enrichment, Domestic Violence Prevention, Military and Environmental.
Our funding, in small part, comes from member dues, and in large part from our retirees who continue to have a connection as former dues paying members and/or volunteers in their local chapters. Chapters also fundraise locally to supplement the funds they receive from Appeals, Royalty Fundraising efforts and Grants. Additional funding would mean more support to the many agencies, adults, children and families in our communities
I would like to take this opportunity to Thank all the Pioneers of the New Vision Group for their outstanding service to their communities. In 2016 New Vision Pioneers donated 668,045 volunteer hours. Multiply that by the industry standard for a volunteer hour which is $25 it equals = $16,701,125.00 back to our communities in volunteer time! Those are only the hours we know of. We are relatively sure Pioneers are out there volunteering and we just don't know about it.
If you have email, please share it with us. We regularly send out information on Volunteer efforts, your local chapter's newsletters and upcoming fundraising efforts.  If you choose to get your information from us in this manner, it will save the Chapter money that can be directed to a community project.
If you are on Facebook, Like your local Chapter's Facebook page or the Group page (https://www.facebook.com/NewVisionPioneers) to keep updated on our/their efforts. All the New Vision Chapters are now on Facebook.  Just type New Vision Pioneers in the search bar in Facebook and you will find them listed.
We will continue to develop strategies to best serve our members, our communities and the growth of our membership and leaders.
Please continue to support the New Vision Pioneers in volunteering and reporting your time, donating to local and/or national fundraising efforts and continue to be engaged and communicate with us and each other.
I look forward to serving you in 2017.  I may be reached at info@newvisionpioneers.org.
Sincerely,
Deborah Foley
Director
New Vision Pioneers
A Volunteer Network